Tiffmeister's Look at Those Lost!
Section 1: Those Lost to All of Us!
A Moment of Cyber Silence Please...
2008 January-Reflection of 10 years have past.
This week I have lost one of my co-workers, a fellow teacher that had taught for 35 years. His name was Robert Ector. He taught with me at the school I transferred to after my former school was closed for budget cuts. Since this page was first up, over 10 years ago, this is the first time I have felt the same. I just feel that the world has lost a good person this week. I'm going to miss the way he always told jokes, did the hang loose symbol, and would sing in the hallways. He touched so many lives, we've had children and their parents coming back to the school to share in their grief. And time does heal. But sometimes, you just have to cry. Then, you can get used to the change that they have moved on. No more talking after school, joking about the impossible situations teachers are being placed into by the politicians of our times. Really, no more shooting the bull. I'm going to miss him. And this Saturday, at his funeral, it will be sad for all of us to say good-bye.
Stay tuned for more reflections.
PS: you always keep their memories. I have since written a book in which my cat Booford, was turned into a character called Brewford. Brewford was his original name given to the people that found him as a stray in downtown San Jose. The book is about a girl that becomes a Crystal Keeper, helper to fairies. Her cat, begins being able to talk telepathically to her. And I tried to capture his personality. Those that are gone inspire us today. It is how we remember.
****9/11--A Moment of Cybersilence for the heros, victims, families of those lost to the cowardice terrorism attacks on the World Trade Center and the Pentagon****You're in our hearts, prayers....thoughts.
Due to the recent distruction and terrorism lost at the Pentagon and World Trade Center attacks, I hope that this page gives some comfort to those who have lost loved ones in the tradegy. I have created and maintained this page as a chronicle of change-change for losing those in our lives. The ones below that have been lost to myself are family members or icon heros in my life. They died by natural deaths, unlike the abrupt shocking attack that has affected us all. Whether an American, or a member of the world wide net, this affects us all with the change of how our world will differ from this act of cowardice.
I finished reading the book "Who Moved My Cheese?" by Spencer Johnson, M.D. It describes dealing with change in a new way. Death, is one of the largest changes of life. Having our secruity and safety threatened, can be described as old comfortable feelings of always having "cheese to eat". The book describes how we should look for new cheese, or ideals,dreams, new ways of dealing with things. We should be in search of new cheese, or we might be surprised if the cheese runs out. This attack may be something that you could have seen coming, thought of, but not suspected to happen to you, your country. I agree! I'm surprised that it has actually really happened, since it's been a possiblity with all the threats against the WTC. It's a hard thing to see that cheese running out or being moved. But, remember...."They keep moving the cheese!"
It has been moved again. We'll have to find more.
--Written on Sept. 11, 2001
Charles Schulz-creator of the "Peanuts" comic strip...
shall live on in our thoughts as the father of the children we all grew up with.
Commentary from 2.13.2000.
He may have left this life on Sat. 2/13/2000, but he will live on through Snoopy, Linus, Charlie Brown, Lucy, Sally, and all the other names that are common place in our minds. He will be missed greatly by everyone through out the world.
Having been a fan of Snoopy with many hours of pretending at my wish to be a cartoonist by drawing him, I can only think of one tribute...and that is a few tears and silence from one of my favorite characters.
From 1997
Now, a moment of silence for the late, great Princess Di.
May her memory inspire others to follow in her path.
She will be sadly missed all over the world, in cyber space and the real world.
Final Farewell Virtual Tour. Link here to pay your final respects.
---
---
Section 2-Tiffmeister's Personal Lose
-To be shared with and to comfort others.
Another Great Women Passes to the Other Side

Sept. 17th, 1997--I am sad to announce the passing of a very close friend of mine.
She was known as Snowycat75 on the internet. Her real world name: Pam Fulton.
Some of you knew her, some of you who surf by didn't.
But, she was a person who was in search of answers, and I sincerely hope she has found them now.
She also was a quite the social drinker, which didn't help since she died of Hepetitas III. Whether she knew or not, I'm not sure. But had I known, I would have stopped every drink she had taken. Since then, my hard liquor days have been over. I can barely touch Jagermeister and other hard liquors. I mostly socially drink cider and wine now, and sometimes not at all. And I try to see the doctor once a year for check-ups. She had noticed she wasn't feeling well for over several months and put it off until she was yellow...yes, I'm not kidding, yellow!
So basically, if you see a friend that is neglecting to go to the doctor's, try to convince them to go. She may have waited till it was too late because she didn't want to burden her family with doctor bills. And most of all, if your friend turns yellow, take them to the emergency room immediately.
Good-Bye Pam.
I hope you know the purpose of your life was the good that you brought to the people around you.
---
A Year Has Past...The 1999 Reflection
The list continues unfortunately. I continued to lose people I cared about. It's said things happen in threes, right? Lost my grandmother and my cat(and for cat lovers we should translate this to furry-baby love bundle) all within a month. So the beginning of 1998 was rough, and brought me to the last straw. It threw me into a depression that was more like shock and healing at the same time. I didn't know I was in it 'till I started to come out of it with the adaption of my new black little kitten, Samantha, ...now a year old.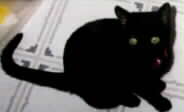 What follows are the original posts from beg. of 1998, for all those internet travelers going through a similar lose; whether it be a pet, mother, grandfather, daughter, or parent. I sincerely hope it helps your healing. It doesn't pass really...we just get used to the change. And life goes on.
--March 14, 1999.
---
On Monday, Jan. 12, 1998....Another Great Lady Past....
In the early morning hours, my grandmother, Vira DeMay, past away resting in her home.
Needless to say, I was busy with funeral arrangements, being with my family and grandfather. And I'm still in shock. So there is more to be added with this tribute. And yeah, she died a week and a half after the New Year, but heah, she was a great lady...mostly cause that's what all her friends and neighbors are saying. So she fits the theme of the page at least. To me she was grandma, and I really realised, I took the caring and giving for granted maybe cause you know, that's what grandma's do. But heah, if you've lost a loved one recently and need a shoulder to cry on, or if I could borrow yours, email me below.
---
Feline 80s Icon...also another on the other side of the veal!
This has truly not been the best winter for the Tiffmeister. Now, my beloved cat of 14 1/2 years, BEUFORD( pronounced Booford), has died as well, in my home, by the fireplace he loved to curl up next to on Feb. 17th(1998). Now, granted he was 14, but to raise an animal that long and have them die is as upsetting as losing a human. He was having liver, than kidney problems. AND yeah, he lived a long kitty life. But, the fact other loved ones are dropping like flys around me is not making this easy either.

So, my sense of secruity is shot, and I think I've offically hit rock bottom. Spring is around the corner, and like Howard Jones says..."Things can only get better!"
---
My Grandmother Mim, Lost to Me on Jan. 28, 2000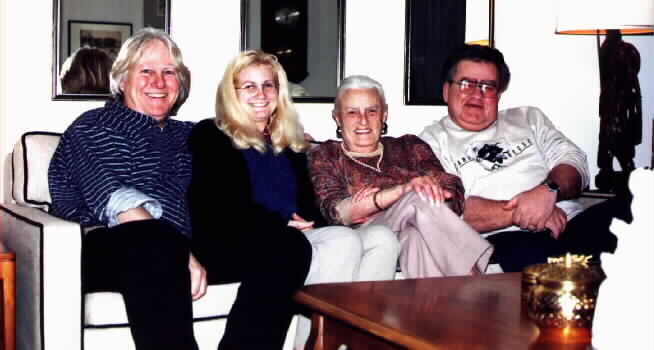 Well, unfortunately as time passes, people continue to get old. Than even when you tell them..."You're my only grandmother left now..." they really can't make that promise to never die. I have lost my last grandmother, M'Lu Peck, or known to her family and friends as Mim. She was a great lady, and shall live in our stories and memories of her. And of course, there are the pictures.
I must comment next that since I build this page, I didn't expect the list to actually grow as much as it had. It was really ment to be a tribute to those that died in 1997. But unfortunately, we are mortal, and all shall turn to dust. I just happen to have been lucky to know many people doing that right now. Hope if you're going through the same pain, this page has helped you relieve it a bit.
"...No one lasts forever."-Oingo Boingo
---
Tiffmeister's Forum Home Page
Top of This Page
---