Titanic Information Props/Costumes Site-Unoffical!
Just an Act of Love for the Film
****9/11--A Moment of Cybersilence for the heros, victims, families of those lost to the cowardice terrorism attacks on the World Trade Center and the Pentagon****You're in our hearts, prayers....thoughts.
What's Here: Feature of Pics of Props and Costumes from the movie, info, and pics, all having to do with the movie Titanic from Paramount Pictures.
The feature of this site is the Props and Costume pictures from the Titanic The Movie Tour that happened during the summer of 98'.
Yours truely was lucky enough to live by the first stop. If you're interested to know if the Tour is came near you, scroll down for the locals.
If you didn't get to see this a few years ago, fear not!
Take a tour here for your exclusive connection to my Titanic Props and Costume photos.
Pics include:
---
The Links to Titanic Props and Costumes
Links to other Titanic Props and Costumes
---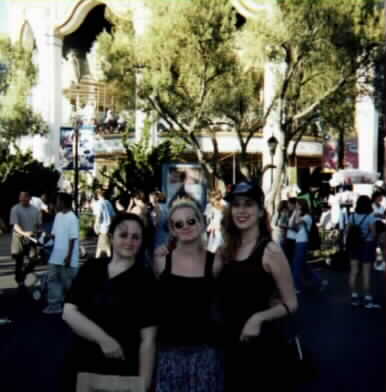 The gang after we saw the Titanic The Movie Tour at Great America--June 98-- Santa Clara, CA.
Jenmeister is far left, Tiffmeister is in the middle, and The Lizmeister is on the far right.
---
Check out our home page's and other related pages...
Tiffmeister's Forum Home Page
Lizzybo's Home Page-The Truth About THEM!
Jenmeister's Home Page!

Top of This Page
---
This page hosted by
Get your own Free Home Page